You could do this the easy way like
Condo Blues
did. With the right pieces and it would be simple and fast. Or you can do it my way and use up some things you have lying around the house and take a bit more time.
The things lying around the house you'll need to have, bottle caps of course, free business card magnets (or any magnets you may have lying around and no longer need/want), and scraps of fabric or even paper/cardboard, perhaps from junk mail if you don't have scrap fabric. I used fabric because I have A LOT of it and no real use for it but I can't just throw it out, think there are some under lying issues there.
Gather all your supplies: desired bottle caps, magnets, scrap fabric, and hot glue gun:
Measure out a piece of fabric that fits inside the bottle cap width wise, fold it up so it all fits in the bottle cap with some space left for the magnet piece and glue it in. Make sure you glue at most/all folds.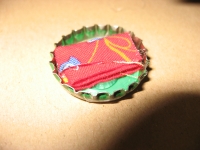 Measure and cut your magnets into pieces that will fit in your bottle cap. I choose to go with rectangles versus circles cause they were easier to cut to a correct size for me.
Glue your magnet to your fabric
Stick on your fridge or whatever surface you please.